Photo Credits: Galaxy Cauldron Forum
As a beauty pageant pageant lover since 2004, It brings me so much satisfaction when a certain country seems to be "awaken" from being dormant and surprises everyone by sending gorgeous delegates to the major pageants. Sending gorgeous delegates is one BUT consistently sending top tier delegates and having a solid game plan for these delegates is what spells the difference between pageant power houses and those one hit wonders. I personally think that Indonesia is right in between the two groups.
Photo Credits: Miss International
Kevin Lilliana won the Miss International 2017 title last week. This is the very first Big 4 crown for Indonesia. To be clear about it, I do NOT consider Indonesia as a Pageant Powerhouse yet. For a country to be considered as such, a country should have at least one crown per Big 4 pageant – Miss Earth, Miss International, Miss Universe and Miss World. Indonesia has one crown and still need to work on three more! However, I also have to tell you that Indonesia is NOT a one hit wonder country! In fact, they have risen from dullness and should be the one to watch out for.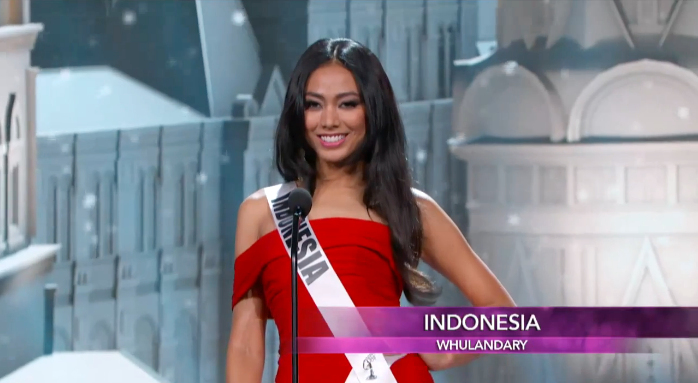 Photo Credits: Wow Keren
Photo Credits: Miss World
2013 was the year when Indonesia rose from the ashes. I was very impressed with the double placement on that year with Whulandary Herman placing in the Top 15 of Miss Universe 2013 and Vania Larissa ending as part of the Top 10 in Miss World 2013. When Whulandary won, it quelled the voices of the doubters who were downplaying the hometown victory of Vania. I was impressed by this double victory in 2013 but looking back, I am much more impressed that Indonesia was able to sustain the surge of beauty pageant successes. It is important to take note of the wins after 2013 and how I think it led to Kevin's 2017 success:
Elvira Devinamira placed in the Top 15 of Miss Universe 2014, Elfin Rappa was a semifinalist in Miss International 2014 and Maria Rahajeng placed in the Top 16 of Miss World 2014.
2015 was another successful year for Indonesia. Maria Harfanti was the 2nd Runner-up of Miss World 2015 and Anindya Putri placed in the Top 15 the day after in Miss Universe 2015.
2016 was no different. It was success after success for this Asian country. Felicia Hwang started it when she placed as 2nd runner-up in Miss International 2016. Then, Natasha Mannuela achieved the same placement at Miss World 2016. Kezia Warouw ended the Indonesian onslaught with a Top 13 placement in Miss Universe 2016.
Photo Credits: The Philippine Pageantry
So, how did Indonesia do it?!? First, they reached out to the "right people". The photo above surfaced after Kevin's Miss International win. Both Kevin and Dea Rizkita (who represented Indonesia in Miss Grand International 2017) trained under Kagandahang Flores. This Philippine-based beauty pageant camp which have been training Miss International candidates for a long time, has two Miss International queens under its name. They definitely know what they are doing! Second, they improvise. Looking at the quality of Miss Universe delegates from Indonesia since they placed in 2013, I must say that their queen is an improvement from the previous year delegate. Lastly, the Indonesian pageant fans will rival the enthusiasm of Filipino beauty pageant fans (who I consider as the best pageant fans). Having enthusiastic fans will ensure that their candidates will always be talked about online and interest will always be high.
Photo Credits: Missosology
What is next for Indonesia?!? One, Bunga Jelitha will compete in Miss Universe 2017 on the 26th. I consider her as a strong candidate! Rumor has it that Aces & Queens trained her for the pageant. Can someone please confirm this? By January 2018, it is time for Puteri Indonesia 2018 as it starts its search for the 2018 representatives.
In my opinion, for Indonesia to continue its rise, the country needs to focus on two things: (1) Penetrate Miss Earth – whether other people like it or not, Miss Earth will remain to be part of the Big 4 pageants and will stay significant. Indonesia has no placement in Miss Earth and (2) Aim for a top 5 finish in Miss Universe. A Top 15 placement is old news already. To see progress, Indonesia needs to penetrate the elite Top 5 of the most prestigious pageant soon!
I can not wait to see the next achievement of Indonesia ❤ ❤ ❤
–Kattera–